netbookreview.net
Price: from 884$ to 914$
Article: Samsung Galaxy TabPro S 12" with Keyboard - 4GB RAM, 128GB SSD - Windows 10 Pro - LATEST EDITION laptop
Type: Work laptop
Operating system: Windows 10
RAM: 4 GB
CPU: Intel
CPU frequency: 2.20 Ghz
Diagonal display: 12.5 Inch
Display Resolution: 1920x1080 pixels
Type of hard disk: SSD
Hard disk size: 128 GB
Touchscreen: Yes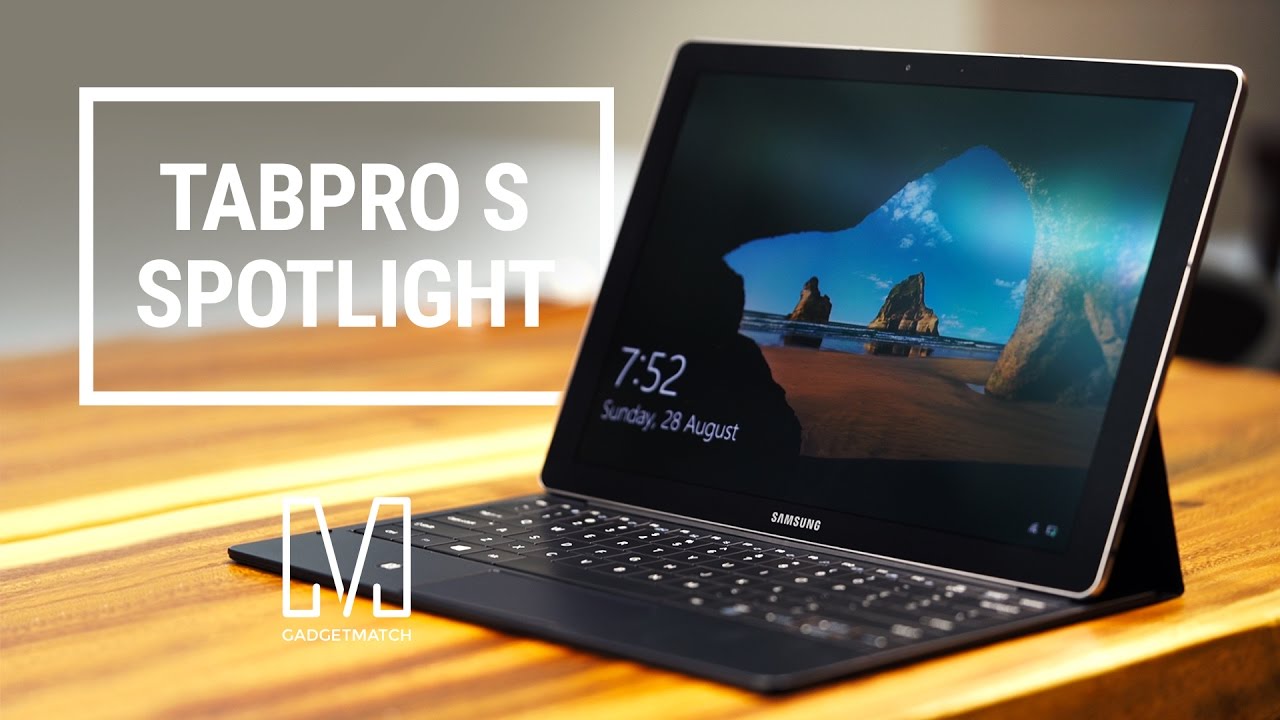 Samsung's latest attempt at a a laptop and tablet in one device is the Galaxy TabPro S. See what we make of it in our full review after it was premiered at CES 2016.
SAMSUNG GALAXY TABPRO S REVIEW
We live with an abundance of technology. From the computers on our desks and on our coffee tables to the phones we are glued to throughout the waking day, there are just so many devices clamouring for our attention. The Samsung Galaxy TabPro S is one of them and a bad name for what is actually a great Windows tablet - it's the Korean firm's Surface Pro 4 rival. Here's our full and in-depth Samsung Galaxy TabPro S review.
SAMSUNG GALAXY TABPRO S: PRICE AND COMPETITORS
The first and most obvious barrier to well-specced machines like the TabPro S actually selling is the price. It costs £849, which is an awful lot for something that doesn't act fully as a laptop or fully as a tablet.
The upside, in comparison to rivals like the Microsoft Surface Pro 4 and the iPad Pro, is that that price includes the keyboard cover attachment. The least you can spend on a Surface Pro 4 with the keyboard cover is £858.99, while the cheapest iPad Pro with the keyboard costs £628.
Remember though that the iPad runs iOS, a mobile operating system whereas the Microsoft and Samsung both ship with the full desktop version of Windows 10.
SAMSUNG GALAXY TABPRO S: DESIGN AND BUILD QUALITY
There's no denying that £849 gets you a stunning piece of hardware. The TabPro S is acceptably thin and light for a 12-inch tablet measuring 11.43" x 7.83" x 0.25" without the keyboard attached, and it gives away its laptop aspirations by the logos and camera favouring landscape use. This is somewhat hard to get used to if you've done all your tablet use on an iPad, say, which are all first and foremost portrait orientated devices.
Using the TabPro in portrait feels slightly odd, the screen is slightly too stretched and it feels a bit too monolithic. The bottom edge of the device has magnetic connections and contacts to attach it to the keyboard. When attached, the TabPro becomes much more usable. We've barely used it like a traditional tablet.
The sturdy tablet clicks satisfyingly into the keyboard but it's a bit disappointing that the magnetic flap that holds the device in two typing positions is less than reliable. We found on several occasions that gently tapping the screen to select or scroll sent the whole thing crashing down in a heap of metal and lost connections. This is a flaw for a device that wants to be a laptop – you won't want to use it on your lap unless you fancy going insane with frustration.
That's a real shame, because when you plonk it on a desk and get typing, the TabPro S keyboard is truly excellent. The keys have no spaces between them in order to fit a full Windows keyboard and surprisingly good little trackpad. We found it easy to adjust from Apple and Windows PC keyboards despite the differences.
SAMSUNG GALAXY TABPRO S: HARDWARE AND SPECS
At 12in the screen is larger than most tablets but this make sense for the Galaxy TabPro S since it's taking on devices like the Surface, which are designed with productivity in mind. The screen uses Samsung's favoured Super AMOLED technology and has a crispy 2160 x 1440 resolution. There are two 5Mp cameras, one being the forward facing camera for video calling and gratuitous selfies, and the back to never be used by anybody except tourists at Traflagar Square.
Inside is an Intel Core M3 processor (6th generation Skylake) which is 2.2GHz and dual-core, 4GB of RAM and a 128GB SSD. If you're buying this as a consumer then you get Windows 10 Home, but the sample we have been using is actually Windows 10 Pro – most likely the option that ships to businesses if and when they buy a fleet of them. Here's our write up of the differences between the two.
Other internal specs include NFC, 11ac Wi-Fi with MIMO, Bluetooth 4.1, GPS and there's also LTE Cat 6 listed although you can choose a Wi-Fi only model if you don't need a cellular data connection – the base model is Wi-Fi only.
Samsung has chosen a USB Type-C port, much like the MacBook, HTC 10 and a few other gadgets released in 2016. It's a shame that there's no full-size USB port so can't easily use a memory stick or a wired mouse etc but Samsung has an answer - sort of. An optional accessory, along with a stylus (which we unfortunately couldn't test), is a multi-port adapter that provides HDMI, USB Type-A and USB Type-C ports. It's £64. Which sucks.
SAMSUNG GALAXY TABPRO S: SOFTWARE, PERFORMANCE AND BATTERY LIFE
The real deal breaker with hybrid devices like this is the level of harmony between the sometimes-flaky hardware setup with the software. The TabPro S, we reckon, has an advantage over the iPad Pro because it runs the full version of Windows 10. This is a godsend on the one hand because you really can just turn it on and use it like a computer – it is a computer. On the other hand, you don't always feel as though you're using one, such is the annoyance of the thing flapping about and not having a mouse.
Out the box we were up and running in no time, installing various programmes such as Google Drive, WhatsApp, Spotify and Office (though it's a shame that for nearly £1,000, subscription to Office isn't included). We still prefer this approach rather than installing Windows 10 apps, because Windows 10 apps are largely unrefined. It's simply easier with the TabPro to use desktop programmes and browser tabs like you would on a desktop machine.
Performance is pleasingly zippy and akin to how we find other Core M devices like the Surface Pro 4 or the MacBook. The only time it really slows up is when you have too many Chrome tabs running, which is then more of a memory problem, but with 4GB you won't really come into much trouble with day-to-day use. It's certainly excellent for word processing, web surfing and emailing. When things were up and running, we found the TabPro a genuinely pleasing device to work on.
Samsung promises 10.5 hours of power from the bundled fast charger after a 2-hour or so full charge. This was disappointingly far from what we got out of the TabPro. When using it as our main work laptop over Wi-Fi with push notifications for several programmes, writing and several browser tabs open with brightness on just 25%, we watched the battery bar deplete with alarm.
We were not confident to go anywhere without the charger, which is not the case on most tablets we'd ever used. Then again, you have to consider that this is a smaller tablet battery straining to run a full computer operating system. Something has to give, and disappointingly for the sleek, capable, portable TabPro S it's battery life. This is a familiar failing in modern technology.
SAMSUNG GALAXY TABPRO S: CAN IT REALLY BE USED AS A LAPTOP?
In terms of using the TabPro S to replace your laptop, the straight answer is yes, it can. You gain the advantage of a touchscreen and portability, though some ultrabooks are slimmer and lighter (though cost extraordinary amounts). As long as you're using it on a flat surface, there shouldn't be any reason why you couldn't use this as your main machine for work or play – except there's one really annoying caveat.
The TabPro uses USB-C to fast charge with the bundled charger, but the cable is maddeningly short at only 1m long. Most laptop charging cables are several metres long and for a device supposedly for all day work use, we found we couldn't actually plug the TabPro in at desk level, so short is the flex. For a device that also in real world use got nowhere near the promised 10.5 hours of battery life, this was a big issue that actually stopped us using the device whenever we wanted.
OUR VERDICT
The TabPro S is undeniably a beautiful and capable piece of hardware and it can be a joy to use. The problem is, it's not a joy to use all the time. The 2-in-1 form factor can work, and we still think that the Surface Pro 4 is the best example of this, thanks to its build quality and integrated kickstand. The TabPro S is an excellent computer, but it remains frustrating that it doesn't always excel in being one. Hopefully Samsung will consider improving simple things like the stand on the inevitable sequel if it is to continue to charge this much money for it.
Source
Samsung has played in the tablet space for a long time and even longer in the world of Windows laptops. Now, with the Galaxy TabPro S, the South Korean electronics giant has introduced a Surface Pro 4 rival that also aims to take down the iPad Pro with the full-fat power of Windows 10.
The 12-inch slate is insanely thin and features an extremely vibrant, Super AMOLED display that beats the pants off of almost every Windows device before it. That said, with only an Intel Core m series processor and limited memory, it lags behind some of the best Windows tablets on the market, like the HP Spectre x360.
Design
There's no overstating how incredibly thin this tablet it is. Measuring just 0.25 inches (0.63cm) thick, the TabPro S is thinner than Surface Pro 4 by a substantial margin, and by a smaller measure, the iPad Pro.
It would be easy to mistake the TabPro S for an Android tablet, as it's almost as thin as the Samsung Galaxy Tab S2. It bares more than a striking resemblance, too, with a similar shape and minimalistic design down to the small camera hump on the back.
Of course, the major difference is the TabPro S is running with a headier CPU and Windows 10 where you might have expected Android to be.
This Windows tablet also, sadly, is not built with the same magnesium unibody design as the Tab S2. Instead, the TabPro S features a magnesium frame and plastic back. Materials aside, the 12-inch slate feels sturdy and light enough to hold upright for hours on end.
The bezels are a little large by today's standards, especially with those on the side being nearly an inch thick. However, it's forgivable, since these little areas help to actually hold the tablet without triggering the touchscreen.
Weak bonds
While the TabPro S is an impressively thin and beautifully constructed Windows tablet, the included keyboard base is too flimsy to keep this 12-inch tablet standing.
Like most tablet covers, this folding keyboard folio sticks onto the Samsung's tablet using magnets built into both the case's sides as well as a magnetic anchor above the keyboard.
On one end, a pliable, segmented panel covers the back portion of the tablet and kicks out to extend the base. The bottom of the tablet, meanwhile, clips into a tilting, magnetic strip above the keyboard to hold it either a 115- or 155-degree standing position.
Tilting the screen between these two angles is annoying, as you need to gingerly separate the tablet from parts of the magnetic case while preventing the whole thing from coming apart. No matter how careful you are, you'll quickly realize the thin back cover isn't strong enough to hold the tablet in place.
The rear cover often slips out of alignment easily, causing the tablet to tumble onto its back, and on more than one occasion I had to catch it before crashing onto the floor. You can also forget about using the keyboard while lying back, as the tablet easily peels forward and falls flat on its face.
While these magnets are strong enough to support 10-inch Android tablets, with a larger 12-inch device that's not necessarily the case. Specifically with the TabPro S, it's more like cradling a baby who can't keep its head up.
The ultimate downfall of this case is you simply can't just flip the keyboard behind the screen to use it as a Windows tablet. Doing so will cause the device to fall asleep, thanks to a magnet built into the lowest panel segment covering the back of the tablet.
While you can flick the device back on, the NFC tag built into the left side of the keyboard rubs against the back of the slate. This ends up introducing another problem of triggering a constant stream of connection requests.
It seems like a mistake in design, and it means you'll have to completely detach and toss the keyboard base aside whenever you want to use the TabPro S as a tablet.
A tablet-class keyboard in a 2-in-1 world
The keyboard itself feels surprisingly spacious both in the size of the individual keys and how they span towards the edges of the device. That said, it's missing a few more media shortcuts than I would like, the keyboard follows a traditional layout, making it easy for anyone to pick up.
Ultimately though, the keyboard feels behind the times, as it lays completely flat on whatever surface you put it on. Many 2-in-1 devices have since adopted attachable keyboards that sit at a slight incline for a more comfortable typing position. It doesn't help that the keyboard looks like the spitting image of the OG Surface Pro Type Cover.
The plastic trackpad is surprisingly decent, offering precise mouse movements and scrolling, though, I wish it were just a tiny bit bigger. You'll also have to be wary of oily prints rubbing onto the keys and permanent imprints of your wrists appearing on the rubber palm rests.
Source
Similar notebooks
MSI GE62 Apache Pro-004 15.6″ Gaming Laptop
ASUS VivoBook E403SA-US21 14-inch Full HD Laptop
Lenovo G50 15.6-inch Laptop
Dell Inspiron i5559-3349SLV
MSI GL62 6QF-893 15.6″ Gaming Laptop
Acer 15.6″ Flagship Full HD