netbookreview.net
Price: from 944$ to 974$
Article: HP Envy x360 15.6" 2-in-1 Convertible FHD IPS 1080p Touchscreen Laptop PC| Intel Core i7-7500U | 16GB RAM | 1TB HDD | Backlit Keyboard | Bluetooth | HDMI | B&O Play | Windows 10 laptop
Type: Gaming laptop
Operating system: Windows 10
RAM: 16 GB
CPU: Intel Core i7
CPU frequency: 2.70 Ghz
Diagonal display: 15.6 Inch
Display Resolution: 1920x1080 pixels
Type of hard disk: HDD
Hard disk size: 1 TB
Bluetooth: Yes
Touchscreen: Yes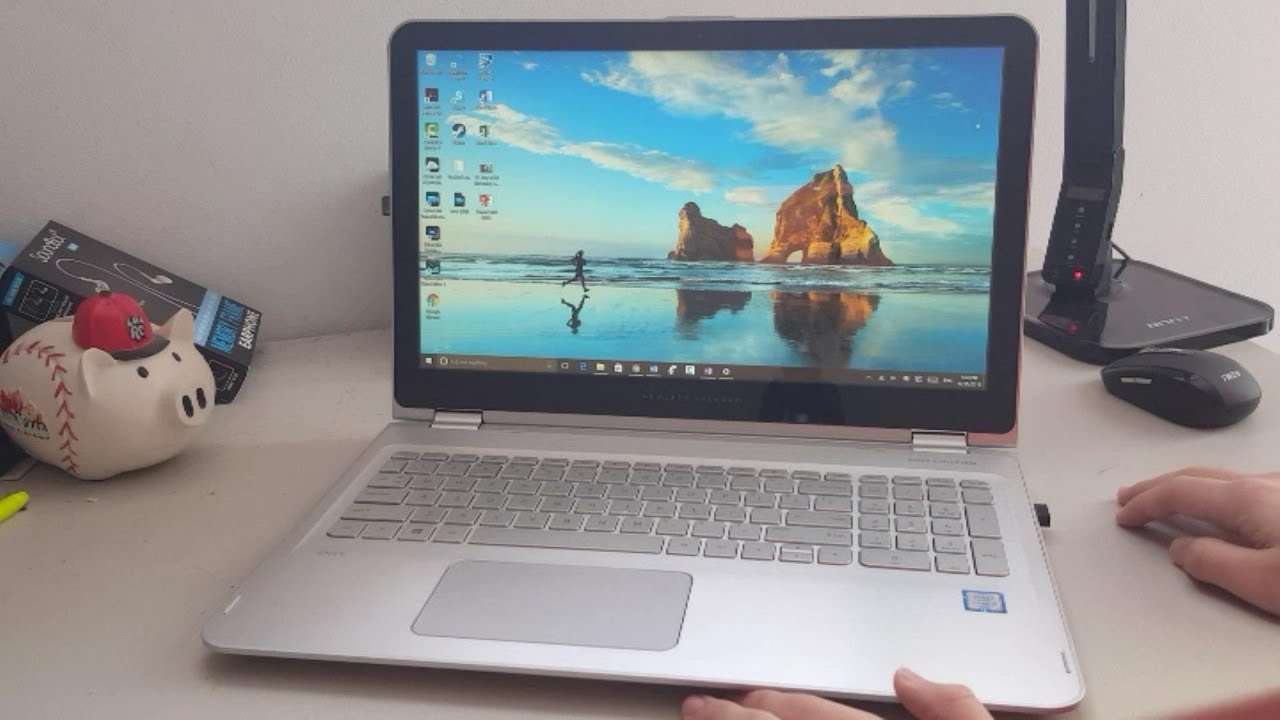 We review the HP Envy x360 15, the large-screen laptop that is also a flexible hybrid with a 360-degree hinge. HP Envy x360 15 review.
HP ENVY X360 15 REVIEW
The HP Envy 360 is one of the largest convertible laptops. It has a 15.6-inch screen, but also a 360-degree hinge like some of today's top lifestyle hybrids.
This is a solidly-made laptop whose somewhat-aggressive pricing makes sure it doesn't seem you're paying over the odds for the hinge. One question remains: what are you going to with a hybrid this big? If you don't have an answer, you should also consider the HP Envy 15, this laptop's non-convertible brother.
HP ENVY X360 15 REVIEW: UK PRICE
The Envy range sits in the middle of HP's laptops. It gets you some frills HP Pavilion laptops lack, but doesn't have the glitz, or the price, of a Spectre model.
The HP Envy x360 comes at a typically mid-range cost, of £779 for the version with an Intel Core i5-6200U. For £849 you get the Intel Core i7 version, which also has a more powerful GPU. More on that later.
HP ENVY X360 15 REVIEW: DESIGN
You have to admire HP's resolve in continuing with many of its HP Envy lines. Not only was the HP Envy x360 quite poorly received critically back when it was first introduced in 2014, there are even still 17-inch HP Envy models available. Unlike some brands, HP still believes in the laptop.
The HP Envy x360 is a bit of a head-scratcher, though. It's a 15.6-inch laptop with a 360-degree hinge. Such hinges are common nowadays but you don't often see them on laptops this large.
In case you're new to these hybrids, the HP Envy x360 hinge feels a lot like that of a normal laptop, but instead of stopping at around 135 degrees, it carries on. The screen can be folded right back onto the keyboard.
Start off trying to position these convertibles an alternative to an iPad and you're on a bad road. They need to be appreciated for their particular talents, that you can prop up the screen at any angle you like, and in small space.
Those benefits do start to sound muted in a 15.6-inch laptop, though. The HP Envy x360 is it a bit odd, isn't it?
It's a low-key sort of oddity, though. The HP Envy x360 is otherwise a fairly plain and tasteful full-size laptop. Its shell is aluminium, and while it's a mammoth compared with most convertibles, it is rather slim and portable for a computer with a 15.6-inch screen.
Our review model is 2.19kg. This is just a little heavier than a 15-inch MacBook Pro, and 200g or so heavier than the HP Envy 15, this laptop's non-convertible sibling.
We find this sort of weight a little too heavy to be perfectly suited to super-portable use. However, the only obvious choice among 15-inch laptops substantially more portable is the Dell XPS 15, which is also more expensive.
The HP Envy x360 comes across as a desktop-replacer with a lifestyle edge, a laptop for people who'd value being able to able to perch the thing comfortably on the kitchen top over beating rivals in a CPU number-crunching drag race. We'll look at this more closely in the performance section.
This is also one of the first laptops we've reviewed to use Windows Hello, a combo of software and hardware that lets you bring the x360 out of sleep with your face rather than a pin or password. It uses IR cameras next to the webcam so that it works fine in dark rooms as well as well-lit ones.
Don't start thinking this is some sort of Retinal-scanning security. The cameras are quite low-res, relying on facial geometry rather than recognising fine detail. Performance is somewhat patchy, veering between working in a second or so failing altogether after 10 seconds of 'checking' a face. However, it does work whether the Envy x360 is used in laptop or 'tent' position, where the camera sits at the bottom of the screen.
Source
The introduction of Windows 8, the emergence of touchscreens and the increasing efficiency of components have helped laptops get thinner and lighter, and they're also behind the growth of hybrids – machines designed for use as both notebooks and tablets.
The HP Envy 15 x360 (model 15-u000na) is one such system. It flips between laptop and tablet modes with a hinge that rotates through 360 degrees, and its 15.6-inch screen makes it one of the biggest hybrids we've seen.
Turning heads
The Envy's 5.3 pound weight (2.4kg) and 0.94-inch thickness (about 24mm) are more akin to laptops than tablets, and that stands up when the HP is compared to its rivals: the Lenovo Flex 2 15 is another 15.6-inch hybrid, but it's thinner and lighter. The HP's nearest laptop competitor, the Dell Inspiron 15 7000, is only a little bigger.
The dimensions, and the 15.6-inch screen diagonal, mean the HP is far more comfortable when used as a laptop. With the screen flipped back to tablet mode the Envy is too large to use in one hand, which means that its use is restricted – it needs to be rested on a table or a lap to be used comfortably with two hands.
The price of £649 (around $1,015, AU$1,175) puts this machine firmly in the mid-range, but it looks like a premium device. Most of the visible surfaces are clad in smart brushed metal, with a glossy black bezel surrounding the screen. Build quality is inconsistent: pushing the underside saw the keyboard flex, and the screen was little better – only a light tap on the rear saw the desktop disfigure. A solid wrist-rest is little consolation.
Control Zone moans
The HP's trackpad is augmented with two Control Zone pads. These sit on either side of the trackpad, and they're designed to add touchscreen-style functionality. Taps and swipes on the left-hand pad select and switch between apps, and swiping the right-hand Control Zone opens the Charm menu.
In reality, it's a mixed bag. Opening the Charm menu from the right-hand pad worked flawlessly, but the left-hand pad required too much force for its gestures to function. That inconsistency renders the Control Zone somewhat pointless, especially given that the touchscreen isn't exactly difficult to reach. The trackpad doesn't make up for the disappointing Control Zone – its coating has too much resistance, so using the pad requires more effort than we like.
The keyboard is similarly disappointing. The layout is fine, but the typing action isn't: the keys feel cheap, there's not enough travel, and our presses occasionally failed to register. It's fine for brief typing, but no good for work.
On the inside
The HP's specification ticks the right boxes, but there are no surprises. The Envy is built around a Core i5-4210U processor – an ultra-low-power part that's clocked to 1.7GHz and uses Intel's latest silicon designs.
The processor is paired with a modest integrated graphics core, 8GB of RAM and a 1TB hard disk – all standard stuff.
Connectivity is disappointing. The inclusion of a single-band 802.11n Wi-Fi chip means this machine can't connect to dual-band networks or faster 802.11ac routers, so don't expect great speeds. Gigabit Ethernet and Bluetooth 4.0 are standard inclusions that don't make up for the poor wireless connectivity.
Source
Similar notebooks
MSI GE62 Apache Pro-004 15.6″ Gaming Laptop
ASUS VivoBook E403SA-US21 14-inch Full HD Laptop
Lenovo G50 15.6-inch Laptop
Dell Inspiron i5559-3349SLV
MSI GL62 6QF-893 15.6″ Gaming Laptop
Acer 15.6″ Flagship Full HD