netbookreview.net
Price: from 384$ to 414$
Article: Acer Aspire Switch 11 V Touchscreen 2-in-1 Laptop Intel Core M-5Y10c, 4GB RAM, 128GB SSD, Office 365 , Windows 10 laptop
Type: Work laptop
Operating system: Windows 10
RAM: 4 GB
CPU: Intel
CPU frequency: 2.0 Ghz
Diagonal display: 11.6 Inch
Display Resolution: 1366x768 pixels
Type of hard disk: SSD
Hard disk size: 128 GB
Bluetooth: Yes
Touchscreen: Yes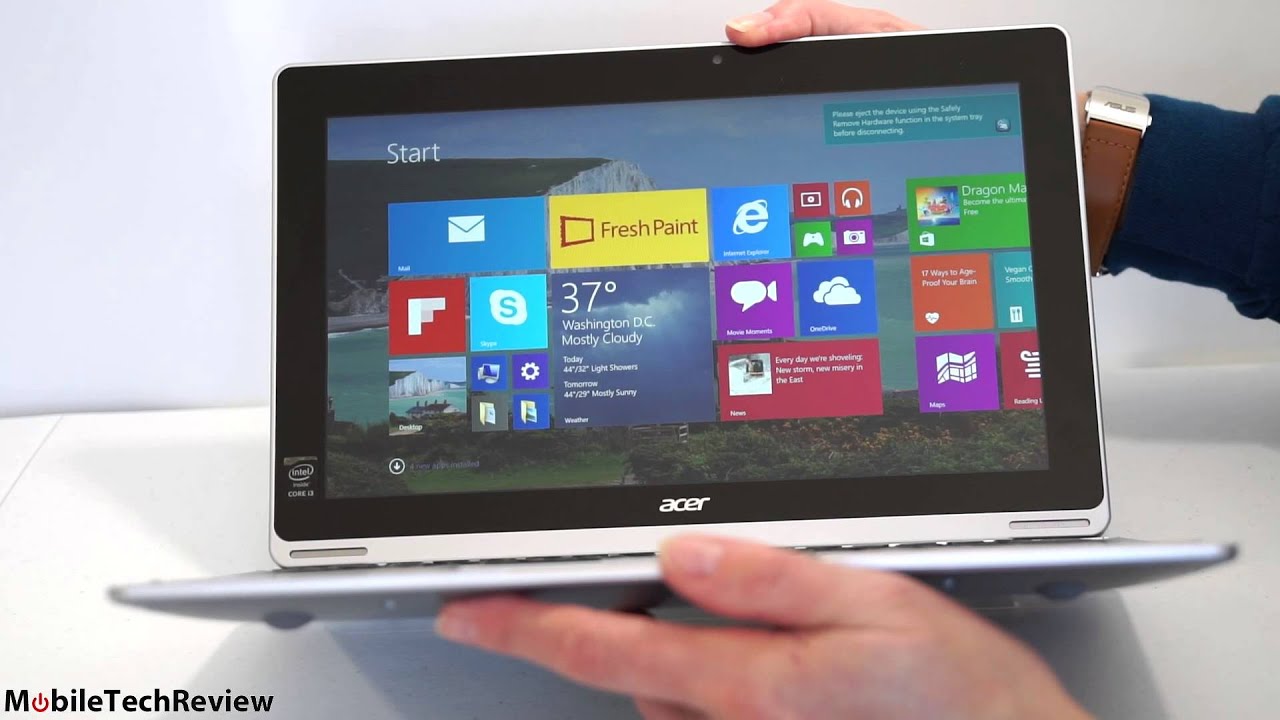 Acer has improved on the Switch 10 with the larger and more expensive Switch 11, but only marginally. Read our Acer Aspire Switch 11 to find out why.
ACER ASPIRE SWITCH 11 REVIEW
The hybrid market continues to plough on, attempting to fuse a laptop and a tablet into one device. Acer's Aspire Switch 11 is one of the latest to arrive so here's our full review.
ACER ASPIRE SWITCH 11 REVIEW: PRICE
The Switch 11 comes pre-installed with Windows 8.1 and is available starting at £379 which is a reasonable amount more than the £289 Switch 10 which we reviewed back in July. Our particular model, the SW5-171, will set you back a more laptop-like price of £449.
Read on to find out what you get for your money with the Aspire Switch 11.
ACER ASPIRE SWITCH 11 REVIEW: DESIGN AND BUILD
The Switch 11 is, to put it simply, a larger version of the Switch 10 (Acer must have read our review suggesting a larger display). It uses the same magnetic 'Snap Hinge' which means you can completely detach the tablet part from the keyboard dock. When clipped together the hinge means it can be folded shut like a regular laptop.
Tablet and laptop are the two obvious ways to use the device but you can also use it in display and tent modes – the same as many convertibles on the market. The magnets are strong so hold well but it can be tricky to get the device snapped into place properly.
Unfortunately, the hinge doesn't go all the way around (like Lenovo's Yoga) so you have to remove the tablet and spin in 180 degrees for display mode. We also found that the device falls over backwards in laptop mode if you push the screen back far enough. It's a problem we saw with the Switch 10 so it's a shame to see it again.
Although the screen size is a mere 1.5in bigger, the device is a lot chunkier than the Switch 10. The tablet itself is 11 mm thick and a hefty 838 g and when you add the keyboard into the equation the device is 28.4 mm and 1.6 kg. That's heavier than even some of Acer's own 11.6in laptops like the Aspire E11 and Aspire V5.
It's heavy but the tablet does feel solid, well put together and has a nice brushed metal cover on the rear which is more than can be said for the plastic keyboard. The dock does have a handy USB port on the right side but we feel there is room for two.
We found the keyboard and trackpad on the Switch 11 to offer the same experience as the Switch 10. That is to say it's nothing special.
ACER ASPIRE SWITCH 11 REVIEW: HARDWARE AND PERFORMANCE
As we've mentioned, the Switch 11 has an 11.6in screen which gives you more room for manoeuvre compared to the Switch 10's 10.1in display. Acer offers the device in a couple of models so you can choose from a bog standard 1366 x 768 resolution or a more exciting Full HD 1920 x 1080.
The latter is what our review sample came with. It's nice and crisp and either way, the display is IPS and coated in Gorilla Glass so you get good viewing angles. It's also a touchscreen either way and although Windows can be fiddly to use with touch, Acer sells an optional Active Pen stylus.
If you opt for the Switch 11 with the lower resolution screen, you get the same Intel Atom processor found in the Switch 10 and an identical 2 GB RAM. However, our Full HD model came with an Intel Core i3 (4012Y) 1.5 GHz dual-core chip and double the RAM.
That meant an extra 500 points in our PCMark 7 benchmark with the Switch 11 scoring 2984 which is about what we expect from an affordable i3 device. We also saw an improvement on the graphics side of things with results of 22fps and 11fps in Stalker: Call of Pripyat at 720p and 1080p respectively. It's an improvement but this is by no means a device for proper gaming.
Moving onto battery life and the Switch 11 failed to impress with a dismal result of four hours and 24 minutes – almost two hours less than the Switch 10. We test by looping an HD quality film over Wi-Fi at a comfortable 120 cd/ms screen brightness.
The cheaper model comes with 32 GB of flash memory while our more expensive one has a 60 GB SSD inside. Our review sample also has a 500 GB optical hard drive which we assume was inside the keyboard dock – hence why it weighs almost as much as the tablet. Acer doesn't mention this in any specifications, though. There was supposed to be an optional keyboard dock with a hard drive for the Switch 10 but it never materialised.
Beyond that full-size USB port on the dock, the tablet has 802.11a/b/g/n Wi-Fi, Bluetooth 4.0, a microSDXC card slot and a potentially handy micro-HDMI port. Last but not least, is a 2Mp front facing webcam and front facing stereo speakers.
OUR VERDICT
The Acer Aspire Switch 11 is a more attractive device than the Switch 10 with a larger screen and better specs. However, we're still not convinced by the chunky, top heavy design and the device let itself down with poor battery life. It might be more affordable but there are much better hybrids out there.
Source
There's certainly a market for entry-level Windows tablets. Plenty of people would prefer to run their favourite desktop software, such as desktop web browsers, rather than having to use alternatives from Apple and Google's app stores with an iPad or Android tablet.
The Surface Pro 3 is without a doubt the best in this class, but its cost and performance approaches that of a fairly high-end laptop, which somewhat limits its audience. If you're not looking to run demanding software like Photoshop or would prefer a simple device for little more than Microsoft Office on the move, then a hybrid could be the perfect alternative – less powerful, but much more affordable.
The Switch 11 is designed to fill that gap. It can be used as a tablet when detached from the dock, or like a laptop when the two are conjoined. It comes with an 11.6-inch screen, an upgrade from the 10.1-inch screen in the Switch 10, providing a bigger desktop area to work in, which many people will prefer when using Windows. But aside from that change, the design remains just about the same.
It costs a bit more than its predecessor too. The Switch 11 retails for about £369 (around $550, AU$720), while the Switch 10 was £299 (around $445, AU$580). Being less affordable eliminates one of the key advantages of the Switch 10, and means the shortcomings of the new model are less forgivable.
Design
The dock and trackpad feel like they were taken straight from a netbook, with a cheap feeling plastic keyboard. There's a single USB 2.0 port on the side of this section. With the tablet and dock connected together, the Switch 11 weighs a hefty 1.6kg.
The tablet part is 11mm thick and weighs 840g, considerably more than many other tablets, but not an absolute show-stopper. The rest of the connectors and ports are built into this section – there's mini-HDMI, mini-USB, a MicroSD card reader, the volume controls and the power button.
The screen has a standard 1366 x 768 resolution, is coated in Gorilla Glass, and delivers a crisp, picture with bright colours. It looks okay even when viewed at different angles. It's perhaps the high point of the hardware, as with its predecessor. I've used far worse displays on laptops and have no real complaints.
Source
Similar notebooks
MSI GE62 Apache Pro-004 15.6″ Gaming Laptop
ASUS VivoBook E403SA-US21 14-inch Full HD Laptop
Lenovo G50 15.6-inch Laptop
Dell Inspiron i5559-3349SLV
MSI GL62 6QF-893 15.6″ Gaming Laptop
Acer 15.6″ Flagship Full HD